Smart Actions help automate repetitive tasks in your inbox. Because Amplemarket automatically categorizes prospects' responses you can trigger actions that make sense based on the classification of the email.
e.g. When a prospect is tagged as "Not the right person", the Smart Action will automatically send an email asking who is the right person to talk to.
Here is a video overview of Smart Replies:
You'll find the smart actions on the right hand side menu.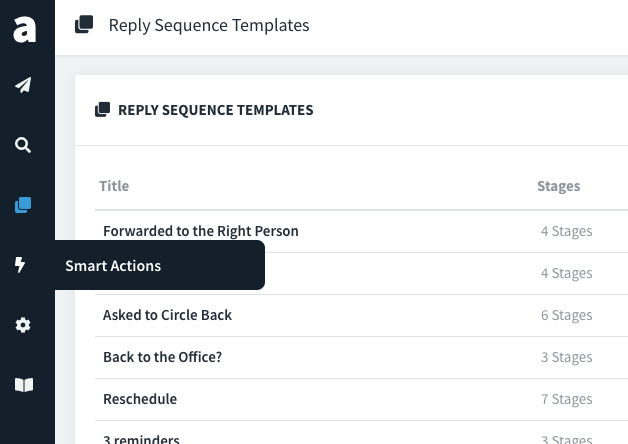 A smart action will help you define the best action to send to the different types of tags you'll be receiving. Smarts actions will help you to:
Save time, by addressing tags received automatically.
Use the best course of action consistently.
Answer to situations that sometimes end up without a response and that might still lead to interested leads (ex. not the right person, OOO leads, etc ...)
Example:
When you receive an OOO, there is no reason for this lead, to be lost. You can define a smart action, that:
Notifies you of the tag received by send a JSON to an endpoint you defined.
Triggers a reply template when the lead contacted returns.
If there is a third_party mentioned, reaches out to the third_party
Finally leaves the email as read, so you don't have to worry about it.
By using smart actions you can take a data-driven approach in order to perfect the responses you should send in each type of situation. Furthermore you can do this without losing the personal touch, by incorporating dynamic fields onto your template.